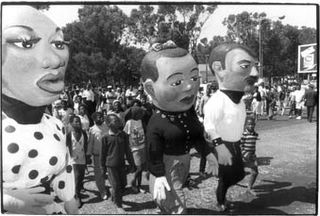 Puppets Against Aids
The Communication Innitiative newsletter
'S
OULBEAT
'
this week features programmes using puppetry for communication and development being used in Africa.
It focuses mainly on programs that use puppetry in discussing sensitive health and political issues, which are extremely difficult to talk about in many African communities.
Many of these were influenced by the work of 'Puppets Against Aids' which started touring with performances and workshops, to many regions of Africa from 1988 and soon developed into an international outreach program. One of their success stories is the work of the Community Health Awareness Puppeteers (CHAPS), based in Nairobi's Mathare slums. CHAPS is a puppetry group that now consists of more than 400 puppeteers performing in 40 troupes scattered around Kenya.